Another con ends and we are left with nothing but the memories - this time of the Frozen Oasis 1st year birthday party. First off, I would like to thank the FWA staff and organizers for being so nice to us and helping us put together the party. It's too bad that the hotel was so strict with everyone, because we were expecting a killer party, but in the end, between posters being torn down, and early 'music off' requirements, the party sputtered around 11:30, even though it went on until 4:30 before finally ending.

Here's the con poster, for anyone who is interested... I had to rush to put it out, with so little time between FC and FWA, and finished it mere hours before having to scamper onto the plane to depart. Soron even had them printed in Atlanta. Apologies for not having it out beforehand. I hope this makes it up somewhat.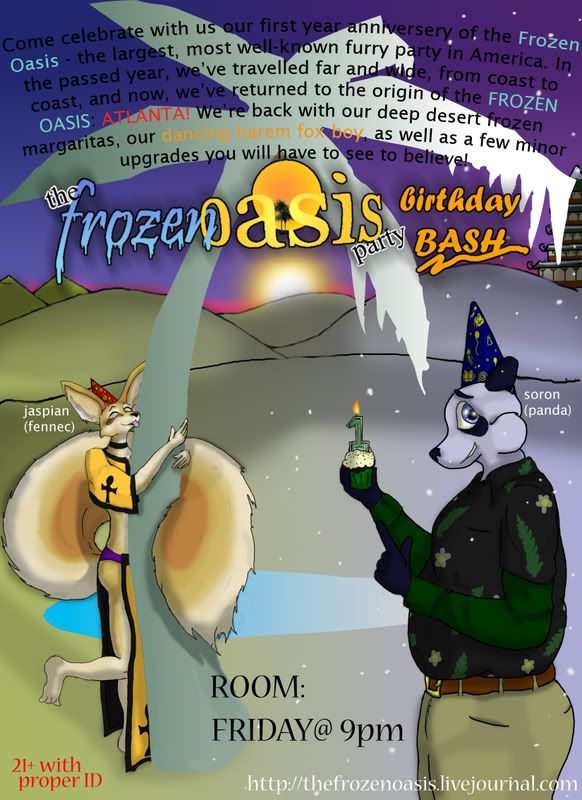 Now for the Frozen Oasis Birthday Party stats. This is the 9th Frozen Oasis Party to date, and the earliest music shutdown (unfortunately). It started at 9 pm on the nose and went until 11:15 before having to be shut down. From then on the party continued until 4:30 am before disbanding, although there were still some there until 5 am (myself included). This is the first Frozen Oasis to provide card playing, as this was supposed to be at FC, but we never got around to setting it up. The game was mostly Texas Hold'em, and didn't involve real money, but rather ceramic chips distributed for fun.

Throughout the course of the night there were 103 attendees. This party had fairly high retension, and the party usually had between 40-60 at any given time. We consumed 20 gallons of mixed drink, containing 22 liters of alcohol between the 2 different types of drinks. 110 leis were distributed, and 100 glowsticks were used (we suspect some were stolen to go to the dance after the music stopped).

As DJ Genki did not show, I played as DJ. I started out with EBM. My track list went as follows...

The Faint - Control (Thin White Duke rmx)
Project Pitchfork - Orange Moon
Assemblage 23 - Divide (Tidal mix)
Informatik - Things To Come (War Changes Nothing mix)
Covenant - Like Tears In The Rain
Acumen Nation - GunLover (DJ Acucrack mix)
Theatre of Tragedy - Let You Down (Bonus Remix)
Apoptygma Berzerk - Until The End Of The World
Rotersand - Dare to Live (SR Version)
VNV Nation - Honour (2003)
Rotersand - Almost wasted (Re-Smoothed Version)
VNV Nation - Genesis (Apoptygma Berserk remix)
Suicide Commando - Hellraiser (VNV Nation remix)
Dark SOHO - Sunspot
Icon of Coil - Access and Amplify
Dark SOHO - Save Me God (remix)
VNV Nation - Entropy

Set length - 1 hr 28 mins 05 secs.

Then I put on some DnB, but it was interrupted partway through.

Sunchase - As We Look (Jaspian extended intro version)
Future Prophecies - Miniamba
Moving Fusion - Black Hawk Down (Jaspian extended version)
Future Prophecies & Teebee - Dimensional Entity (Evol Intent remix)

And then the music got cut off.

On a final note, the Frozen Oasis was mentioned favorably in the FWA closing ceremonies. Thank you FWA staff & administration!